---
INTERTIDAL EXPLORATION (Mainland)
1.5 to 2 Hours
Maximum Capacity: 10
Description
Group Size
6-8 Participants : 1 Facilitator
OUR PROMISE TO BIODIVERSITY
Embark on an exciting intertidal journey that will ignite your adventurous spirit like never before. Prepare yourself for a captivating journey of discovery, where the marine realm unfolds its mysteries and unveils its wonders. Dive into a mesmerizing underwater world, where echinoderms, crustaceans, bivalves and fish beckon your senses, captivating your every gaze and leaving you spellbound. As you tread carefully, the seagrass meadows reveal their hidden treasures, observe the agile hermit crabs scurrying across the sand, their shells serving as a shield against the unknown. Immerse yourself in the secrets of coastal ecology and unravel the intricate behaviors of these often underestimated marine creatures.
---
We love wildlife as much as you do! It is crucial that all of us understand that conservation is for everyone and do our part in ensuring that these fragile ecosystems remain healthy for generations to come.
.
Awareness, in our opinion - is the best form of conservation. 
.
Be beautifully aware of our endemic wildlife. Tread carefully on the coastal biotopes.
.
Champion to be an advocate so that others can be as informed as you are. Leave the single-use plastics at home or better yet, pick up trash as you go about your exploration.
.

And why go with a guide? You see life you never imagined existed on our shores but more importantly, you learn to appreciate these ecosystems and the animals that live in it - respectfully.
---
To book, just choose a date
that
you
prefer from the Calendars below!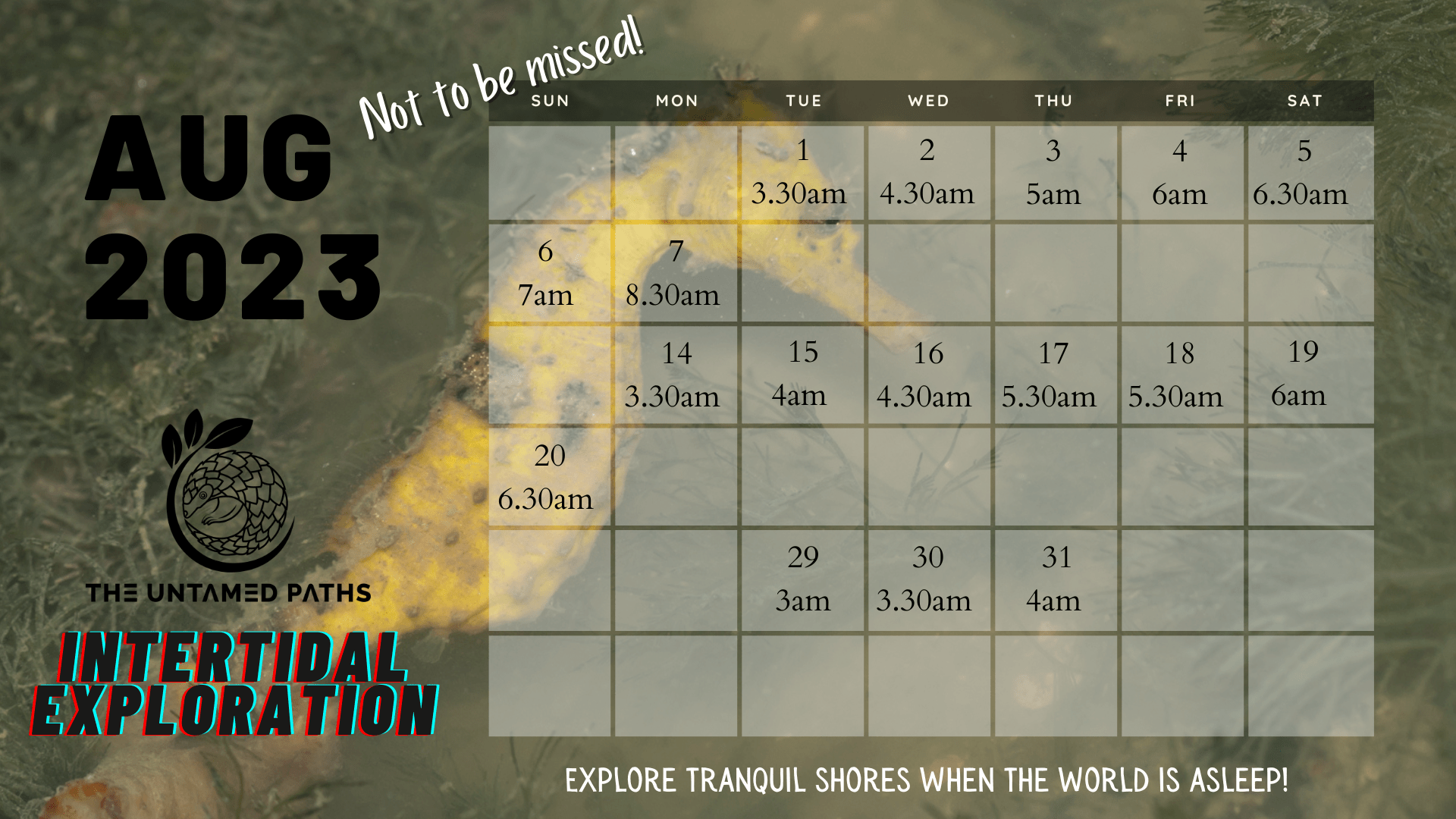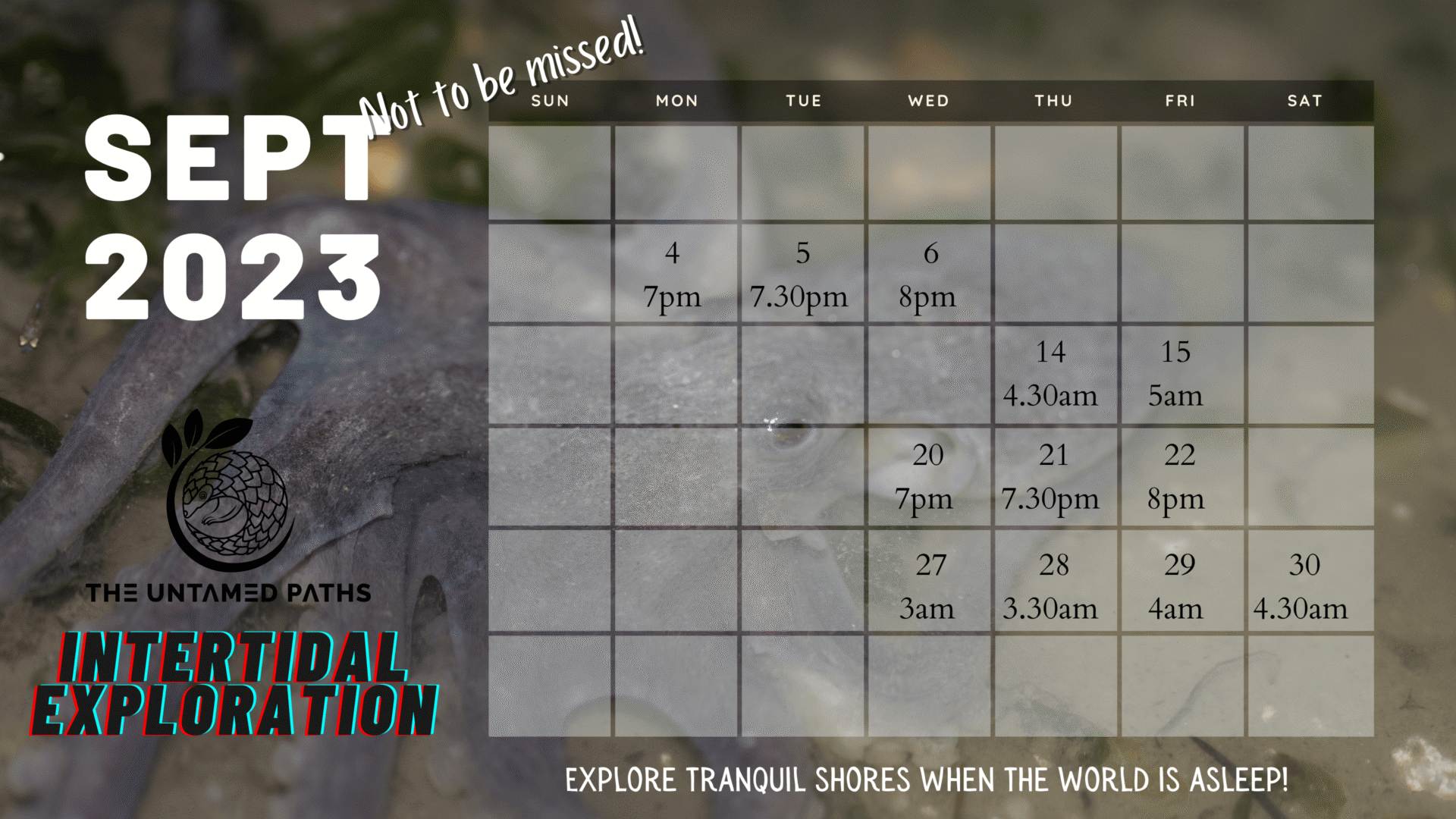 Frequently Asked Questions
SAFETY
Let our experienced facilitators show you the way! As we will be walking on and around the beach, a slight degree of discomfort should be expected. Your feet WILL GET MUDDY, WET AND SANDY
GROUP SIZE
To ensure everyone gets our undivided attention, groups are of the ratio 6-8 Participants : 1 Facilitator. No minimum nor maximum pax at all! 
​
* Kids age: <12 years old
ARE THERE AGE RESTRICTIONS
Never! Everyone can join in the fun! These programmes are great enrichment for the kiddos!
DURATION
Totally dependent on our speed but a good estimate for the entire experience would be 1.5-2 hours. With breaks in-between of course.
WHAT DO I HAVE TO BRING
- AQUA SHOES/RUBBER BOOTIES
- Torchlight* (bef 7AM, aft 6PM)
- Water
- A Handy Camera
- An Adventurous Spirit! 
BAD WEATHER
No problem! Postpone to your next available date at no cost! 

*Programmes are non-refundable
Tour Terms & Conditions
Liability Waiver
By registering for our programmes, you agree that:
You are in good health to participate in this outdoor educational activity. You understand that as a participant, you take part on your own accord. The Untamed Paths will not be held liable for any injury or damages as a result of the programme.
Sign of Commitment
As a sign of commitment, we operate on a strict no-cancellation policy. Programmes are non-refundable but postponable/transferrable.
Media Release
By registering for our programmes, you give consent and understand that your participation may be used in any media-related material such as photos and/or videos on our various channels.
*Schedule in Description (take note of TIMING)
---
As you are booking your tours, please take note of the TIMING when you have decided on a date.
This information can be found in the SCHEDULE in the description section.
WE CAN'T WAIT TO SEE YOU!